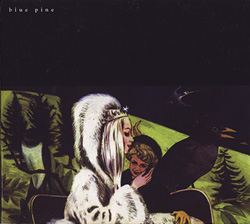 Blue Pine - Self-titled
released 2001 by
Global Symphonic
01. Fingerfood with Dink Hand
02. Baboon that Ran the Railroad
03. Projecto Boxer Balloon
04. Cold Soup and the Lamentations of a Seabound Adventurer
05. War at 44
06. The Milkmaid Queen
07. Beacon Wax
08. Fur Harness or Let no Beast be Shackled Lest Doom Fall on All of Us
09. Benjamin Windsor: Attorney at Law
10. Lovers of the Universe
11. Slowhorse or Traversing the Canadian Wilderness Father and Son Search for the Elusive Wife and Mother

Notes: Blue Pine was Jana Wessel, Carey Mercer, Mike Rak, and Eric Nyburg. They only released one album before morphing into Frog Eyes, although a second album of Blue Pine material was included on the Bloody Hand reissue. Artwork done by B.A. Lampman.