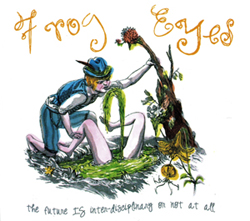 Frog Eyes - The Future is Inter-disciplinary or Not at All
Released July 7th, 2006 by
Acuarela
.
01 Future Fortress
02 Really: The End of Time?
03 Sheldon's Phone Calling the Future That Is All Alive
04 A Feeling: I Feel It
05 I Am Telling You That Cities Were Never Ever Conceived Like This
06 "Politics"
07 "Of Friendship"
08 A Future Begs a Hero

Notes: Artwork by Shary Boyle.