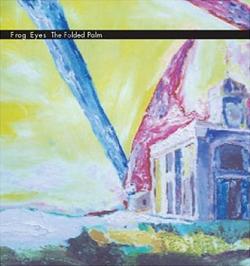 Frog Eyes - The Folded Palm
Released September 14th, 2004 by
Absolutely Kosher
.
01. The Fence Feels Its Post
02. The Akhian Press
03. I Like Dot Dot Dot
04. Bells in the Crooked Port
05. New Soft Mother Hood Alliance
06. Ship Destroyer
07. The Heart That Felt Its Light
08. The Oscillator's Hum
09. Important Signals Will Break the Darkness (This I Hope)
10. New Tappy Is Heard and Beheld
11. Ice on the Trail
12. A Library Used to Be (Black Hole and Its Concentrated Edges)
13. Russian Berries But You're Quiet Tonight

Notes: An early unmastered version of the album ended with "Library" and featured "Russian Berries" as track 11 (so essentially "Russian Berries" was plucked from 11 and moved to the end). Accordingly, the liner notes mix up tracks 13 and 11. "New Soft Mother Hood Alliance" is a new version of a song originally done by Blackout Beach. Art, as usual, by Carey.


Interesting!
Here is a radically different version of "Ship Destroyer," which could plausibly be a demo:
Ship Destroyer (slow version)
Reviews:
Popmatters
Pitchfork
Cokemachineglow
Prefixmag